Make social protection schemes adaptable and responsive to external shocks
What and why
As noted in the ESCAP Action Plan to Strengthen Regional Cooperation on Social Protection in Asia and the Pacific, governments should ensure that social protection is shock responsive. Governments can achieve this by building inclusive social protection systems that provide a strong foundation to support all people through shocks. The increasing frequency and severity of disasters throughout Asia and the Pacific, coupled with the risk of climate change, economic and health related shocks, call for coordinated and comprehensive responses. People everywhere need permanent protection and preparedness. Without sufficient planning, governments may find themselves unable to use their important investments in social protection to respond to shocks efficiently and adequately, leaving community members and their economies at risk.
How
Effective and efficient responses require governments to build a foundation that positions them to be constantly prepared for diverse shocks that may arise. Key to this foundation is the level of social protection coverage. The higher the coverage, the more people the government reaches. Universal social protection systems provide a foundation that reduces the severity of shocks, promotes quicker recovery and is always ready for scale up, as illustrated in Figure 12-1.
With this foundation in place, governments will also need to ensure that:
Financial planning and flexible financial instruments are in place to quickly mobilize and absorb additional funds. Planning ahead will enable governments to identify and develop the instruments and processes required to sufficiently finance scale-up.
Integrated information management systems have accurate data on the population. A unified single registry that provides oversight across schemes will enable governments to respond effectively. Registries that exclude the majority of households and use of out-of-date information will leave governments unable to respond to those who need the support the most.
Automated deposit or e-payment systems are in place. Putting in place contactless payment systems that directly deposit funds in recipient bank accounts, or through digital payment systems, including mobile wallets, will position governments to disburse funds quickly during crises.
Early warning indicators and systems are tailored to the nature of shocks and supported by strong monitoring mechanisms. Agreeing on early warning indicators that are simple and easy to monitor is key to ensure sufficient information can be gathered. Involving a variety of representatives in systematically collecting and regularly reporting real-time data will position governments to make informed decisions.
FIGURE 12-1

Inclusive social protection and the impact of an economic shock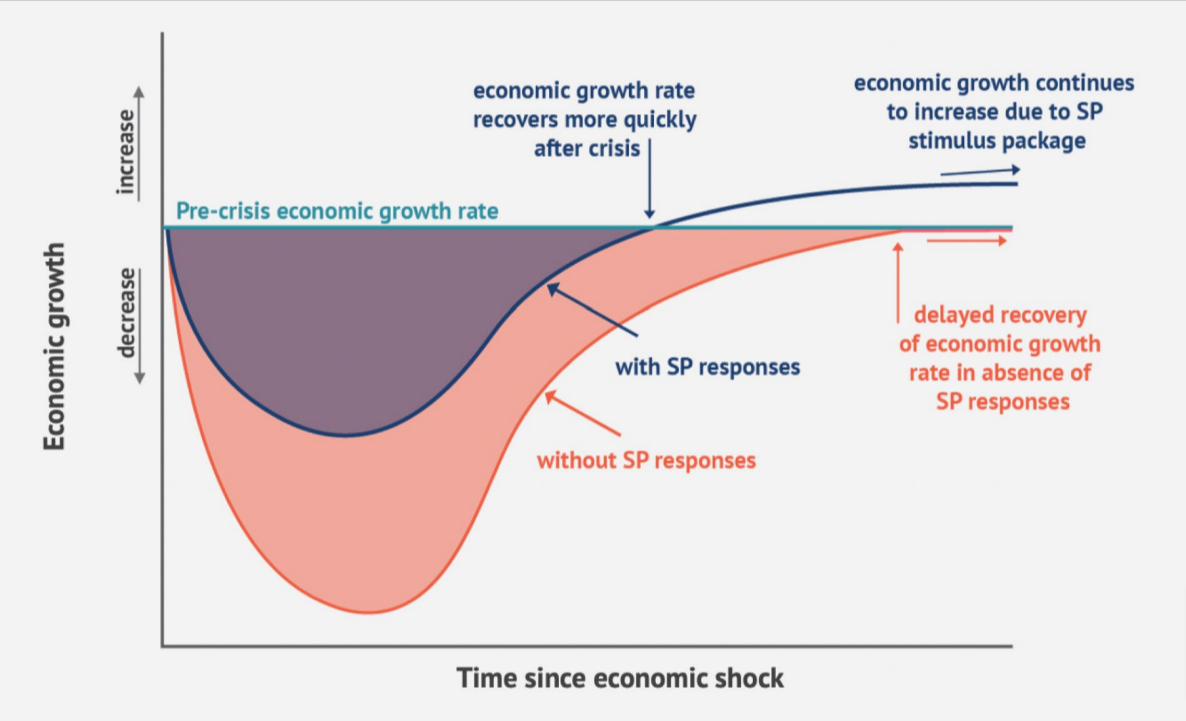 Simple thresholds, supported by a clearly defined activation process, are in place. It is important that thresholds for activating a response are clear and supported by an objective activation process with clear timelines, roles and responsibilities for government and other actors. With clearly defined thresholds and processes, activation should ideally occur objectively and automatically. This is also sometimes referred to as a 'triggering' process.
While the overall process for shock response must be led by the government, establishing clearly defined roles and responsibilities within the government at the central and local levels, and across actors, including community and humanitarian actors, is key to ensure both division of labour and authority. While the decision to activate should be objective and well informed, including with real-time data, the final decision-making authority to scale up social protection schemes must be clearly defined.
Governments can also use the administrative system of existing schemes, such as registries and distribution mechanisms, to provide other goods or resources communities and families may need to endure shocks, including hygiene materials and vaccinations.